I'm back guys! I took a little bit of a blogging hiatus while I got my freelance side business up and running (and I needed a break because I was getting too stressed out and started to feel burnt out- more on that later) Butttt this week I was feeling inspired to start writing again after I took a mini-vacation to Phoenix for a long weekend ( I am actually in the airport coffee shop while I write this) I really wasn't ever planning on adding travel stuff to my blog, but it's been such a big part of my life recently, and I LOVE it so why not throw a little bit into the mix? Although *disclaimer* because I wasn't planning on blogging, I fell short in the picture taking department (but I did save some of my snapchats) So, some of the pictures are mine, and some I will have to take from their websites (sorry!) But, without further adieu, lets get into my travel guide to Scottsdale Arizona!
(Photo cred: Tripadvisor.com)
Breakfast: Chompies! This New York styles bagel shop is seriously what dreams are made of. When you walk in you see a glass case full of baked goodies, AND they have full sit down service in which they serve all-day breakfast (highly recommend) and lunch/dinner options. Since we rolled in around 10:30 am, I decided to go a little bit on the savory side with a Greek eggs benedict and I literally inhaled it. Everything our table ordered looked and smelled amazing and everyone was very satisfied (which is rare for us) Make sure you get a box of bagels to go (my favorite are the parmesan) because they are great fresh, but you can also freeze them and eat them over a week or two so you don't end up eating 12 bagels in one sitting (which is entirely possible)

(Photo cred: grimaldispizzeria.com)
Lunch: While you're walking around the Old Town area, make sure you stop by Grimaldi's Pizzeria. This chain originated in Brooklyn (obviously, I was really feeling New York styled food this weekend) and we learned from our super sweet waitress ( and a google search) that the secret to making the authentic crust is in the water. They actually ship water from New York, if that's not dedication, I don't know what is.
(Photo cred: Tripadvisor.com)
Dinner: Blancos Tacos and Tequila (AKA my 2 favorite words) We walked across the street to Fashion Park to find somewhere to grab a drink (or two) and stumbled across a sign for tacos and tequila. As a Mexican food addict, I knew we had to try it. The patio seating was perfect for a warm spring night and the house special margaritas were to die for (I tried the prickly pear and the blood orange flavors) and the food was SO FRESH. I have no idea how they managed to get my friends salmon to taste so fresh in the middle of the desert! I had a cheese quesadilla (because I was not actually hungry after a full day of eating) and the tortilla was homemade with at least 3 kinds of fancy cheese that I can not identify.
Shopping!
Last Chance: Ever wonder where clothes go after Nordstrom Rack? Well, the answer is a semi-sketchy store in a strip mall in Arizona. They have racks and racks of designer clothes that have either been overstocked or returned to all of America's Nordstroms. So, if you're willing to dig a little bit, you can find something amazing for barely anything!  For instance, I got 5 pairs of shoes, a coat, a purse, and a tote bag from amazing brands for $160. It was seriously amazing. (I have a haul that I'm going to post later this week)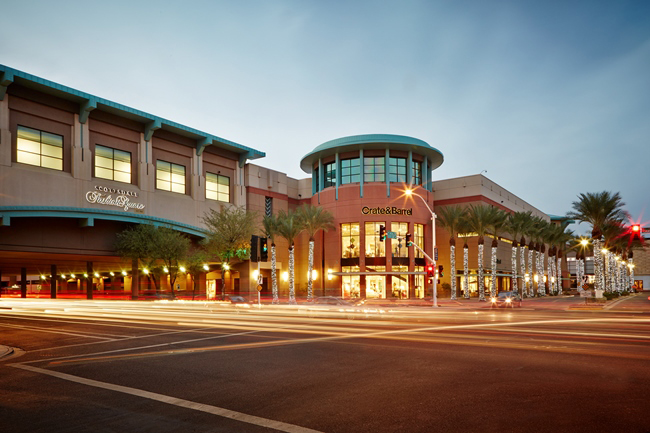 (Photo cred: VisitPhoenix.com)
Fashion Square
This is the upscale mall, which is perfect for when you're tired of the Arizona heat. It's the largest mall in the state and has everything you could ever want in a mall. They carry some of my staple stores like Sephora and Zara and they carry the super high-end stores like Louis Vuitton. So, it's a fun place to walk around and window shop.
(Photo cred: Experiencescottsdale.com)
Fashion park
This is a little outside mall that is absolutely STUNNING. I wasn't able to shop here during the day, but the evening was absolutely perfect to wander in for dinner and drinks. They also have a good mix of stores with some clothes and some homeware stores that were so beautiful that I had to take pictures for reference for my home.
Old Town
If you are into small town things, Old Town is the place for you. They had a lot of local bars, food, and boutiques. It is a lot of walking (you can also walk to the mall) so make sure you are not wearing heels (oops) and have some SPF on (double oops). I was insanely jealous of the people on the segway tour because it seems like a better way to explore without sweating your body weight. But, it was a good work out.
All in all, I had a great trip and it made me excited to get back into blogging (YAY). My advice when going is to be conscious of the weather (because it IS the desert) and make sure you pack ALL of the moisturizers, night creams, and SPF because you will need it. It's even hot af in MARCH. Let me know what you guys think? Have you been to Scottsdale before? What do you think? and most importantly, where should I go next???